Title: A $29 IR Thermometer = A Very Good Deal

Item Resource Page: Mastercraft-DigitalTemperatureReader

Pros: - Cheap
- Relatively Accurate (Within 2*C or 2% at all ambient temperatures within he operating range (see specs))
- 9V Battery which can be replaced with a rechargeable or alkaline for longer run time
- Build Quality seems quite good


Cons: - No back lit screen
- Since Emissivity is locked at 95% shiny surfaces can confuse the sensor and affect accuracy greatly.

Price Paid: 29 CAD + Taxes

Overall Rating: 8/10
Other Info: I picked this up from Canadian Tire during the 70% off sale this week. The sale ends tonight - but it's a sale they repeat about once a year, and they had a lot of stock - so I'd expect it to be on again sometime in the future.
There is another competing product also at Canadian Tire - they had it on special recently, but it was still over $50 so I didn't go for it. It has a back lit screen and has an additional feature of comparing the temperature with an ambient temperature you set to find energy leaks. I can't say how good it is since this is what I have, but it looks good and comparing the packages it had a slightly better accuracy in the 'Specifications' than this one.
A picture of the other IR Thermometer, click the pic to go to that item at the Cad Tire site: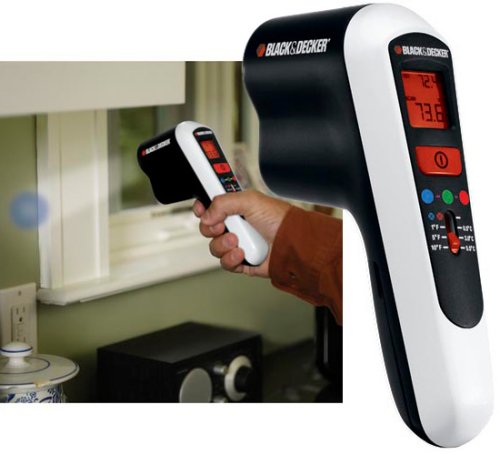 Since the emissivity is locked at 0.95 ambient, if you try to take a reading on something that has a higher reflectivity index (like a transparent plastic bottle for example) some users recommend putting some electrical tape on the item so an accurate reading can be taken.
I mostly use it to check my laptop's operating temps, my forehead temperature, and just for curiosity's sake. It's also great for finding leaks on the wall that could be letting heat escape into the outdoors (or vice versa). My dog also loves chasing the laser - much stronger than the dollar store laser pointers I have
.

PJPeter
P.S. Some other useful uses for these types of temperature readers:
"
The Heat Seeker
Black & Decker TLD100 Thermal Leak Detector
This handheld gun lets you hunt down energy sieves using onboard infrared sensors. Just point, pull the trigger, and read the LCD screen. It's that simple. USE IT: To target breakdowns or leaks. Energy Star claims sealing cracks outside your home can save up to 10 percent on home heating costs. But you can also aim the detector at your car engine to find the cause of misfires, says Scott Pollard, product manager for Black & Decker. "Warm up the car, and point the gun at each cylinder near the spark plug," says Pollard. "Compare temperatures. A misfiring cylinder will be cooler than the others." $40, energysaverseries.com
Bonus Tip
Aim the heat seeker at a glass of wine to verify that it's ready for quaffing: That's about 55F for most reds and 45F for most whites. Then point it inside your fridge to make sure you're below the 40F food safety threshold.
"
Extra Note: With this unit, note that if the temperature is outside the operating range (or even at the extremes of it) then the accuracy can be affected - especially if its used outside in sub-zero temps (which are outside of the recommended operating range). It can still be used to compare temps measured at the same time, but may not be accurate otherwise until it warms up.
Last Edited By - PJPeter on 3/27/2010 6:24:10 AM